At Barpro Racking, we are a friendly, expert and customer-focussed team. With combined storage industry experience spanning over 100 years, we strive to be the racking experts of choice.
Chris Lee
Project Sales
Chris has over 30 years of experience in the materials handling industry. An expert at squeezing a quart into a pint pot, Chris provides tailored storage solutions to both direct and trade customers. Outside of work, Chris is a passionate family man, an avid F1 fan and enjoys cricket and rugby – although at his age, watching rather than playing.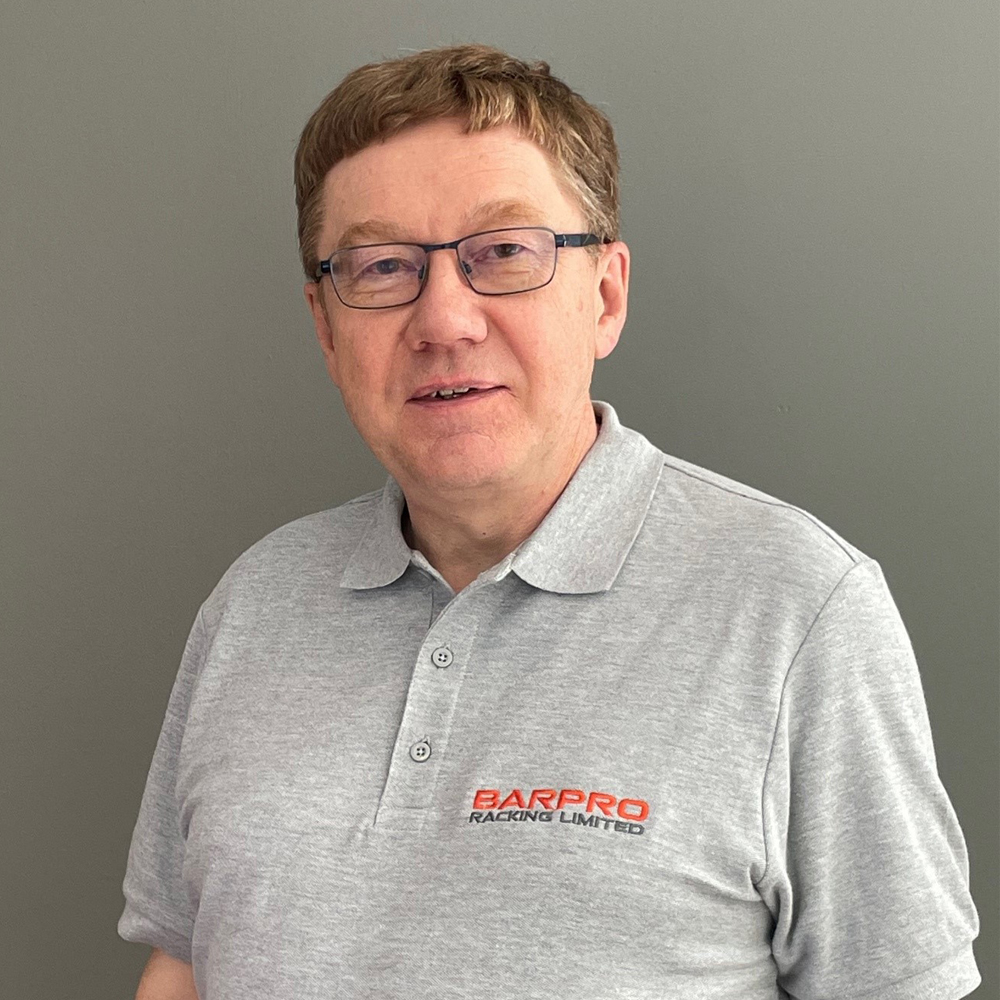 Trevor Pearce
Technical Sales
Trevor spent a number of his formative years learning the trade at Dexion through the 80s and 90s. Starting as a contract controller, Trevor worked across many departments, including mezzanine floors, manufacturing planning and quality and distribution. A skilled craftsman, Trevor knows about racking; how it's made, how it works and how to build it.
Fernando Manganiello
Mobile Racking Sales
Fernando stepped into the racking industry in 2003 as Account Manager at Moresecure of the Whittan Group and, in 2017, became part of the aftersales team at Storax in Bromsgrove. Fern is kept busy building customer relationships, carrying out site surveys and overseeing all mobile racking installations. He spends his downtime coaching goalkeeping at Malvern Town FC and plays a mean guitar.
Maggi Larke
Finance
Barpro's 'counter of beans', Maggi keeps her fellow directors on the financial straight and narrow. Maggi joined the racking industry in the 1990s, becoming the company accountant at Storax. A sojourn of 15 successful years running her own business was the 'jam in the Storax sandwich', as Maggi then rejoined them as Financial Director.
Andrew Harris
Mobile Racking Aftersales
Heading up the customer service aftersales team, Andrew started his career in the financial sector before joining a UK mobile racking supplier where he worked for 22 years. At Barpro, Andrew advises, quotes and supplies spare parts for mobile racking installations. When he's not at work, you'll find Andrew at the gym or out walking.
Tom Lee
Contracts Engineer
Tom has worked in the storage industry for 11 years across design, sales and project management and specialises in adjustable pallet racking, mezzanine floors, dynamics and semi-automated systems. When he's not being super-organised ensuring the smooth-running of projects, Tom's passions outside of work are tennis, squash, cycling and travelling.
Sarah Hateley
Administrator
Sarah is Barpro's 'Administrator Extraordinaire'. In charge of processing orders, purchasing materials and as chief customer liaison ensuring orders are delivered on time. A dedicated mum to her two children, Sarah loves watching them play football and is a fan of Zumba and walking – maybe bumping into Andrew in the process!